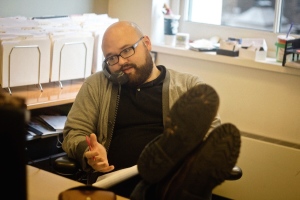 We are growing insensitive to online advertising, and recent studies reveal the challenge that advertisers face when planning and recommending online ads. According to conversion optimization company Invesp, the average Internet user is served 1,700+ banner ads per month but views only half of them. Of the ads viewed, 85% of those clicked came from a measly 8% of Internet users.
What does this mean? It means that, on average, only one in a thousand ads in a campaign is ever clicked. These seem like some scary numbers for advertisers, especially as they focus more and more on digital platforms and are forever seeking ways to make the most of a client's budget. LevLane Media Manager Steve Lipenta shares his perspective on breaking through online without disturbing the peace:
Q: Does it worry you that consumers are becoming less perceptive of ads when searching the Internet?
SL: Consumers have become used to seeing ads where they expect them, and when they show up in a new place — creating a new roadblock for their experience — they get upset.
Q: From a media standpoint, how can we break this barrier in a considerate way, while still giving the client what they want?
SL: There's a delicate balance to standing out without being too intrusive. It's important to position your message in an engaging way, as opposed to just shouting offers at them.
Q: What would be your best advice to give in regards to placing ads on social media platforms such as Facebook?
SL: Know your audience and target smartly. Minimize waste where you can, and focus your efforts on the users most likely to want your product or services.
Q: How can we regain the consumers' trust when advertising online?
SL: Try not to disrupt their experience too much. Thirty-second mid-roll ads in streaming will make them resentful. Brands have done a great job of using "bait-and-switch" ads that start out as though they are only thirty seconds and include a produced 'fast-forward' effect, reducing the spot to a :05 branding spot. Consumers will be grateful for the reduced disruption to their experience, and will be more likely to seek out your product.
Q: Is there one rule of thumb you live by working in media?
SL: How about three? Check your math, get everything in writing and don't leave added value on the table.
https://www.levlane.com/wp-content/uploads/2015/11/levlane-logo-12001.png
0
0
Webmaster
https://www.levlane.com/wp-content/uploads/2015/11/levlane-logo-12001.png
Webmaster
2014-11-26 14:27:09
2020-08-06 19:43:43
Reach your target audience without disturbing the peace