ENSO VILLAGE
"

REVOLUTION

"

CAMPAIGN EARNS PLATINUM FROM HERMES AWARDS
A national creative awards competition sponsored by the Association of Marketing and Communications Professionals, the Hermes Award is one of North America's oldest creative competitions.
The "Revolution" campaign was designed to attract potential residents to Enso Village, a collaboration between the world-renowned San Francisco Zen Center and Kendal, a visionary Quaker-based provider of retirement living solutions.
The campaign began with the recognition that the roots of the San Francisco Zen Center are deeply intertwined with the birth of the American counterculture of the 1960s. The same seekers who came to Northern California attracted by the promise of a utopian future and stayed on, will now recognize that same spirit in the culture of Enso Village. Using idealized images of those who were young in the 1960s, we rekindled the sense of passionate purpose that still beats in the hearts of Bay Area.
Beyond the gratifying peer recognition of the Hermes Award, our work for Enso Village has generated an unprecedented response, with virtually all of the community's residences reserved even as construction continues.
LevLane:
Bruce Lev – Creative
Nat Gutwirth – Creative
Jeremy Johnson – Creative
Christopher Shea – Creative
Kelly Sizemore – Strategy
Sarah Fleischer – Account
Hannah Mira – Account
Dan Hall – Media
Ed Stec – Media
Michael Merring – Media
Todd Orodenker – Media
Ally Darmo – Media
Enso Village:
Barry Johnson, Executive Vice President,
Greenbrier Development
Allison Cervantez, Vice President of Marketing,
Greenbrier Development
Tammy Moratto, Director of Sales,
Enso Village
Susan O'Connell, Spiritual Director,
Enso Village
Howard Braxton, VP Sales and Marketing,
The Kendal Corporation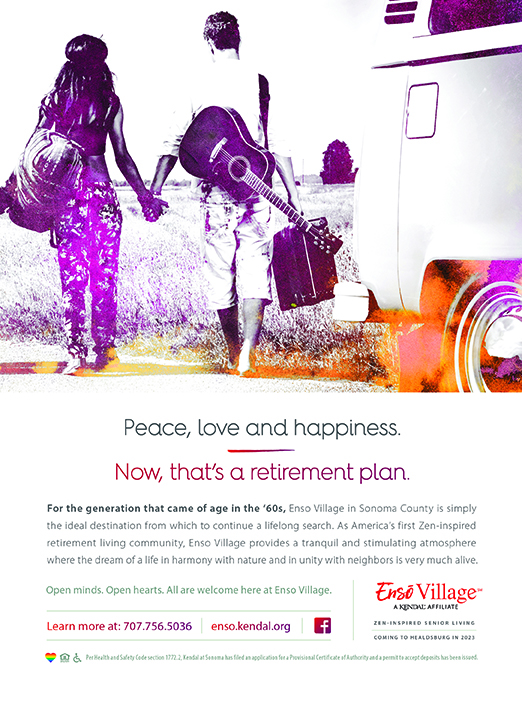 61% more efficient paid-media cost-per-conversion rate*
186% lift in Facebook page "likes"**
108% gain in Facebook sessions over the prior year*
42.3% email open rate with leads which is 62.7% higher than vertical benchmarks**
2022 Hermes Creative Award Winner
80.5% more efficient paid-media cost-per-conversion rate**
133% increase in organic websites sessions*
2021 Best Senior Housing Community in Builder Magazine's 2021 "Gold Nugget" Awards
Maintained 95% + Reserved Status prior to groundbreaking
LevLane's staff is full of individuality and creative people who have given us groundbreaking ideas, words and images for Senior living marketing – and they have been deeply collaborative as we have asked them to go the extra mile to care for language and protect the authenticity of our organization.
Susan O'Connell
Spiritual Director
Enso Village